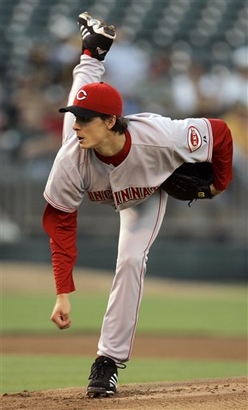 We are going to be focusing the next few weeks of "Down on the Farm" on the Spring Training position battles that will be taking place in Florida and Arizona in the coming month. We are going to focus this week on Starting Pitchers who look to be in their clubs rotation come opening day. While we've already done write-ups on a number of pitchers we are going to focus on new pitchers this week and recap on others before the season starts. As always though Iwould be happy to answer any questions you might have about recent delevopments surrounding some young pitchers in the comments section, so feel free to ask away.


1. Homer Bailey-SP Cincinnati Reds:
Great Expectations always seem to follow Bailey as he has been the Reds top pitching prospect since being drafted in 2004, and this could finally be the year that he not only meets them but exceeds them. During Spring Training last year the debate raged on about who was the better young pitching prospect Phil Hughes or Homer Bailey. While Hughes with a brief impressive stint in the bigs last year locked himself in to the #3 slot in the Yankees rotation, Bailey looks to fight for a spot this year after he struggled during his time in the majors in 2007. Bailey, who will turn 22 during the year, went 4-2 with a 5.76 ERA in 45 innings last season for the Reds and will probably be an after thought to many fantasy owners this season. Look for Bailey to improve drastically in his second taste of the majors and to break camp in the rotation. Bailey could have a big year with a powerful Reds offense and a much improved bullpen, if he's in the rotation all season 14+ wins is very realistic and he has the ability to be a big time strikeout pitcher probably averaging a little over a K an inning. Though walks will be Bailey's weakness early on he has the potential to join Aaron Harang at the top of the Reds rotation by seasons end.


2. Jair Jurrjens-SP Atlanta Braves:
Jurrjens differs from from the previous two pitchers on this list in the fact that he is not as widely known as a prospect. That began to change this offseason as Jurrjens was traded from the Tigers to the Braves for Edgar Renteria and looks to join the Braves rotation this season in their playoff run. Jurrjens, who is 22, won't be handed the 4th or 5th starter job behind the Smoltz/Hudson/Glavine trio but should be the favorite to win a slot going into camp. His main competition for the spots are Chuck James who is rehabbing from a shoulder surgery and Mike Hampton who hasn't pitched since 2005. This should leave Jurrjens in the fast lane to break camp in the rotation after he went 3-1 with a 4.70 ERA and 13 K's in 30 innings for the Tigers last year. That followed up his AA performance of 7-5 with a 3.20 ERA and 94 K's in 112 innings. Jurrjens might not be a fantasy stud right off the bat but he has a very bright future. 10-12 wins should be expected and he has the stuff to be a good strikeout pitcher while maintaining a solid ERA. Pick Jurrjens in NL leagues and watch the waiver wire on him in mixed leagues as he could be a great pick up if one of your starters falters.


3. Ian Kennedy- SP New York Yankees:
Kennedy like every young Yankee pitcher had his name attached to just about every trade rumor out there this offseason but as Spring Training starts Kennedy is still a Yankee and has an inside shot at a rotation spot for the New York Yankees just a year and a half after being drafted by them. Kennedy started last season in High-A ball and ended the year pitching for the Yankees during their playoff drive. In between Kennedy had an incredible season that too often gets overlooked, as he went 12-3 with a 1.91 ERA and 163 K's in 146.1 minor league innings. He then kept that success going in his September call-up going 1-0 with a 1.89 ERA and 15 K's over 19 innings. While his prospects for joining the 2008 rotation are up in the air, I would say its Kennedy's job to lose. Fellow rookie Joba Chamberlain looks to start the year in the bullpen to limit his innings and while its conceviable that Joba takes Kennedy's job when he's ready to join the rotation, its just as likely that Mussina or Pettitte are injured or ineffective keeping Kennedy firmly in the rotation. Kennedy does have some negatives going for him as he is not likely a major strikeout pitcher and won't be topping your team in that category. Also the Yankees will likely limit his innings to no more than 170 innings meaning he may lose some wins to middle relief. That being said Kennedy in the rotation is a must have in AL leagues and should still have 12+ wins and a very good ERA and WHIP for mixed leagues.

4. Gio Gonzalez-SP Oakland Athletics:
Gonzalez who was the headliner of the return package in the Nick Swisher deal has a bright future with the Athletics, the question for Oakland fans and maybe a few fantasy owners is when will that future be? There are no sure things in the Oakland rotation outside of Joe Blanton (and he might be traded before the season is over), giving Gonzalez ample shot to win a rotation spot for the rebuilding Athletics. His chances aren't great as he is only 22 years old and has never pitched a game above double-A, but if Gonzalez proves himself this spring he should open up in the rotation. Gonzalez went 9-7 with a 3.18 ERA and 185 K's in just 150 innings last year for the Birmingham Barons and looks poised to take the next step to the big leagues. If Gonzalez makes the rotation he will have some positives going for him as he will pitch his home games in a pitchers park and still has a quality bullpen behind him. It will be important to remember that Oakland will be rebuilding and wins will not always be easy to come by and his minor league strikeout numbers could be a bit decieving as he probably won't fare as well versus major league hitters. Gonzalez does have plenty of potential so keep an eye on him but don't overdraft him as it could be a long year in Oakland
5. Jeff Niemann-SP Tampa Bay Rays:
Niemann who was drafted 4th overall in the 2004 draft, ahead of Homer Bailey, Phil Hughes and Jered Weaver, looks to finally be ready to show the Rays what made him such a highly touted college pitcher. Niemann who missed time in both 2005 and 2006 with injuries finally was able to stay healthy last year and showed his talent going, 12-6 with a 3.98 ERA adding 123 K's in 131 innings of work. Niemann is far from being a lock to join the rotation out of Spring Training as the Rays have been stockpiling promising young arms for years now. That being said don't count Niemann out of the mix just yet he has the talent to be there and if he stays healthy he should be in the rotation by the all-star break if not opening day. The Rays pitching staff should no longer be thought of as Scott Kazmir and no one else. In addition to James Shields and Matt Garza, the Rays overall have improved and should add value to anyone in their rotation. Niemann could be a breakout canidate this year and regardless of the injury risk take a long look at him if he makes the rotation out of camp.
I hope everyone has a great week and come back next week when we will take a look at what infielders look to win a starting job this season.