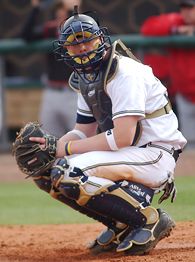 We are going to have another look at how some of the top prospects in baseball are faring so far this year in the minors.
Mat Gamel-3B Huntsville Stars:
Mat Gamel is entering is third full season of professional ball after the Brewers drafted him in the 4th round back in 2005. He has been a bit of an enigma so far for the Brew Crew in his first couple season of minor league baseball. As he has never been consistent in any part of his game other than his high batting average, he has flashed both power and speed offensively but has never been able to build on his success. He profiles well as a third baseman with good athleticism and a strong arm but has made quite a few errors, prompting questions of whether or not a position change is needed. So far this season, his first in Double-A, Gamel looks like he has put his game together (at least offensively) hitting .364 to go along with 10 home runs and 39 RBI's through 45 games. Which is pretty good considering Gamel hit only 9 home runs all of last season. Gamel is still a bit of a work in progress in the field (committing 10 errors so far this season) but still has time to pull it together.
Outlook: Gamel has shown this year that he is a complete offensive ball player and was even considered as a potential call-up for last week's inter league series at Fenway. He looks to be another impact bat in the Brewers system and projects to hit .300+ with 25-30 HR's when he gets to Milwaukee. He will likely spend the majority of the year in the minors though should be in line for a September call-up. If Gamel keeps hitting the Brewers will have to make a decision to trade Bill Hall to make room at third base.
Max Ramirez-C Frisco RoughRiders:
Each of the last two seasons Ramirez has been part of a deadline deal, in 2006 the Braves used him to acquire Bob Wickman, and last season the Indians gave him up to re-acquire Kenny Lofton for their playoff run. Given his performance so far this season, I think its safe to say that the Rangers are going to hang on to their 23 year old catching prospect. Ramirez has been a hitting machine this year batting .391-10-32, while slugging almost .200 points higher than he did last year at a .689 rate. Ramirez still needs to work on his catching ability but has steadily improved each year. Ramirez is also blessed by having exceptional plate discipline for a young hitter as evidenced by him posting at least a .415 OBP each of the last three seasons.
Outlook: At the beginning of the year it looked like Ramirez may be in line to be traded for the third time in as many seasons, since the Rangers possess the top catching depth of any system. Now with the way he is hitting it may be one or more of the other Rangers catchers on the move come July 31st. With Gerald Laird and Jarrod Saltalamacchia ahead of him on the Major League club and Taylor Teagarden sitting in Triple-A, Ramirez still has some hurdles in the organization. Saltalamacchia isn't likely to go anywhere but could be in for a permanent position change to first base, meaning it is likely that one of either Laird or Teagarden is moved to make room for Ramirez. Look for him to be up with the Rangers for good in 2010, until then he will likely continue his feast on minor league pitching.
Trevor Cahill-SP Stockton Ports:
If after his first full season of minor league ball Cahill looked like a second round steal by the Athletics, after he went 11-4 with a 2.73 ERA in 105 innings pitched, including going 5-0 with a 0.74 ERA down the stretch in August, he should be considered grand larceny after his start to this season. Cahill picked up right where he left off last season as he is 5-1 with a 2.96 ERA in his first 9 starts. He has dominated opposing hitters with 68 K's in 54 innings, and holding batters to a .190 average against. Of his 18 runs given up so far this year 8 were in one start and 5 more in another, outside of those two poor performances Cahill has been almost untouchable.
Outlook: Cahill has advanced faster and better than the A's could have even hoped when the drafted him in 2006. He has dominated Low-A hitters last season and is now giving the same treatment to High-A ballplayers. Cahill should be in line for a promotion to Double-A before the year is out and will likely need one more full year in the minors before he makes his case for the A's starting rotation in 2010. Being that he's only 20 right now the A's won't rush him to Oakland to fast, but it seems like if he continues to overwhelm minor leaguers they won't be able to hold him back. Cahill doesn't profile as a typical staff ace, but he has displayed excellent control and command in his brief career and should only continue to improve as he gets older and stronger.
Matt Wieters-C Frederick Keys:
There were multiple times last year where it didn't seem like the Orioles had any chance of having Matt Wieters ever wear an Orioles uniform, now it seems like a foregone conclusion. Wieters last year was in his Junior year at Georgia Tech and was a legitimate candidate to be the number one overall pick last year for the Tampa Bay Rays. He was widely considered the most polished and all around bat in the draft class while at the same time played a premium position, catcher, at a high level. The Orioles entered the draft picking 5th and it seemed unlikely he would fall to them, but due to the contract demands of Scott Boras his agent and personal team preference, the Orioles drafted Wieters. Though they had been lucky enough to get Wieters to fall to them, one major obstacle stood in the O's way, Scott Boras. Teams had until midnight on August 15th to sign their picks and with an hour to go the Orioles seemed to be no closer to reaching an agreement with Boras than they were on draft day. Then with one minute to go until midnight Wieters signed for a $6 million bonus, the largest in team history. Since he signed late Wieters didn't play in the minors last season, though he did play in the Hawaiian Winter League where he performed fairly well hitting .283 in just over 100 at bats. Wieters opened the year in Class High-A ball for Frederick and has put on quite the impressive hitting display, batting .348-11-30 in just 141 at bats. He leads the Carolina league in home runs, RBI's and OPS and is second in the league in batting average. Wieters is a rare find as a catcher who can hit for average, power and has great plate discipline. Wieters is also a highly refined defensive catcher that possesses an exceptional arm.
Outlook: The outlook is quite bright for Matt Wieters as he is doing everything right in Single-A and will likely be moved up to Double-A Bowie within the next month. He has all the makings of an all-star catcher and should hit in the .320 range with 25+ home runs year in year out. So far he's been worth every penny of that $6 million bonus, and should be on his way to Baltimore before the end of next season.
Hope everyone enjoyed this weeks look at a couple top prospects! Enjoy your Memorial Day weekend, and keep checking back for more prospect updates!