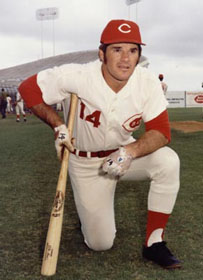 Pete Rose
is the greatest Hall of Fame eligible baseball player
not
enshrined in the Cooperstown. Is that about to change? The baseball rumor mill was buzzing this weekend that baseball commissioner
Bud Selig
was considering reinstating baseball's all-time hits king, making him eligible for the Hall of Fame.
The Hall of Fame is a place to honor the game of baseball and to tell its story. That's why it's time to lift Rose's ban and allow him to assume his place in Cooperstown. I've always been a believer that the Hall of Fame was incomplete without Rose, who totaled 4,256 career hits, to lead everyone who has ever played the game. He's the all-time leader in plate appearances and games played and ranks in the top 10 in doubles, runs scored, total bases, and OPS. He went to 17 all-star games, was a Rookie of the Year, an NL MVP, a World Series MVP, and two-time gold glover. His on-field impact was extraordinary.
I don't think baseball should be in the business of judging a person's character, and clearly Rose was a bit flawed - but who isn't? There are cheaters and drunks in the Hall, isn't that right
Gaylord Perry, Pud Galvin, Mickey Mantle
,
Babe Ruth
, et al
? I know the argument against Rose is that he bet on the game and thus challenged its integrity, but after years of lying, Rose finally came clean in 2004. That doesn't mean we have to forgive Rose, but the baseball Hall of Fame is a place for storytelling and to honor the history of the game, whether we like it or not.