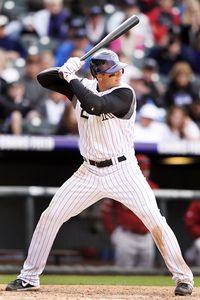 Am I wrong to think that there have been more players hitting for the cycle this year than usual? After
Troy Tulowitzki
hit for the cycle on Monday, becoming the sixth player in 2009 to do so, I decided to investigate.
Turns out six cycles for one year is high - about double the average. Retrosheet.org (a phenomenal resource for baseball research) identifies 289 cycles since
Curry Foley
hit for the first cycle on record, back in 1882. Feels like yesterday... On average, there are 2.75 cycles per year and the last year without a cycle was 1983. Even the strike-shortened year of 1994 had a cycle (
Scott Cooper
of the Red Sox, if you're wondering). So six is high, but is it the highest? No.
The record for cycles in one season was set back in 1933 when Hall of Famers
Mickey Cochrane
and
Jimmie Foxx
accounted for two of the whopping eight cycles that year. In 1890, there were seven cycles headlined by
Oyster Burns
, who led the National League with 13 home runs and
Farmer Weaver
, whose six hits in his cycle game was not matched until
Ian Kinsler
had six hits as part of his cycle game this year. Also in 2009,
Michael Cuddyer
and
Jason Kubel
of the Twins became the first pair of teammates to hit for the cycle in the same season since Montreal's
Vlad Guerrero
and
Brad Wilkerson
accomplished the feat in 2003. In addition to this year, 1940, 1976, and 2004 also feature six cycles. With a month and a half of baseball left in 2009, can the record be matched?