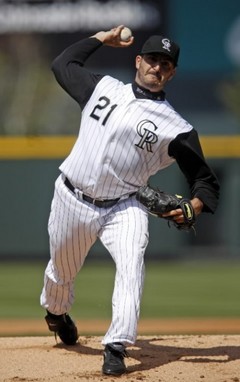 As the Rockies look to extend their lead in the NL Wild Card while chasing the Dodgers in the NL West, I am reminded that I picked the Rockies to finish in fourth place in the NL West in my pre-season predictions.
I looked smart in the beginning of the season when the Rockies hit rock bottom (sorry, couldn't resist) and had to fire manager
Clint Hurdle
. Since then, though, the team has been on a roll. What's caused this change?
The Rockies have four guys in their lineup with at least 18 home runs, but they're doing it with pitching. They are one of only eight teams in the NL to have gotten over 100 starts from their first five starters this season. Four of their starters have at least 10 wins, with
Jason Hammel
right around the corner with eight. None of their starters have an ERA over 5.00. In the bullpen,
Huston Street
has resurrected his career and has only blown one save this year and trade deadline acquisitions
Rafael Betancourt
and
Joe Beimel
have been a solid righty-lefty setup tandem.
If pitching carries a team far into the postseason, watch out for the Rockies in October.